Product Overview
For all lovers of delicious cocoa, this Natural Holiday Morning Cocoa Whipped Scrub for your hands and body is a must try, it smells absolutely delicious! This super soft natural whipped soap will moisturize and care for your skin so well that you will forget about body lotion! After all, this soap is packed with nutrients, fatty acids, vitamins, and antioxidants.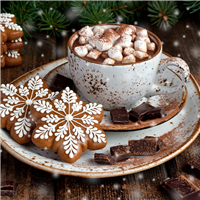 SOAP SCENT - Holiday Morning Cocoa - Rich notes of delectable chocolate, melted butter, and brown sugar are carefully blended with roasted nuts and sticky caramel, and french vanilla. Not too sweet.
This listing is for one jar of natural Holiday Morning Cocoa sugar whipped soap (volume - 320ml).
Safe to Use from: 8 years +
Usage Restrictions: individual allergies on formulation ingredients.
Instructions: Take a generous amount of this naural Holiday Morning Cocoa sugar scrub, lather in hands, and apply all over the hands and body, then rinse with water.
KEY BENEFITS of Natural

Holiday Morning Cocoa

Sugar Whipped Soap:
Sweet Almond Oil: Thanks to Vitamin E, sweet almond oil keeps your skin cells and epidermis healthy, protects your skin from UV radiation damage, and helps your skin look smooth, soft, and free of fine lines. The fatty acids help your skin retain moisture and can heal chapped and irritated skin.
Shea Butter: extracted from the nuts of the shea tree, shea butter is packed with fatty acids, antioxidants and vitamins E, A and F. It is considered to be a superfood for our skin as it is believed to deeply moisturize dry skin, treat acne and blemishes, reduce skin inflammation, possess anti-aging properties, provide relief to itchy and peeling skin, restore skin elasticity, prevent and reduce stretch marks, and even help with diaper rush.
Granulated sugar - gently exfoliates the skin, cleans pores and ingrown hair bumps, increases blood circulation to the skin, and polishes the skin.
Full list of Ingredients: Aqua, Glycerin, Sucrose, Prunus Amygdalus Dulcis (Sweet Almond) Oil, Sorbitol, Sodium Lauroyl Isethionate, Disodium Lauryl Sulfosuccinate, Sodium Chloride, Citrus Reticulata (Tangerine) Peel Oil, Salicylic Acid, Benzyl Alcohol, Sorbic Acid, Orange Oxide.
Disclaimer: Our Natural Holiday Morning Cocoa Whipped Sugar Scrub is intended for external use only, avoid contact with eyes. If irritation occurs, discontinue use immediately and consult your physician.
Soap Care: To preserve your Holiday Morning Cocoa whipped soap and give it a longer life, keep the lid closed when not in use and avoid dirt and water getting inside the jar. For this purpose we have provided a wooden spoon to scoop out just the right amount of whipped soap from the jar.
Soap Packaging: Our Natural Holiday Morning Cocoa Whipped Sugar Scrub comes in beautiful packaging ready for gifting, you don't need to worry about that. Whipped Soaps are packaged in see-through organza bags, with a wooden spoon, and a label featuring all ingredients.
Storage Requirements & Expiration: Our Natural Holiday Morning Cocoa Scrub Whipped Soap can be safely stored at room temperatures (away from direct sunlight) for up to 6 months since the product has been opened. If not used within this timeframe, it can be stored in the fridge for additional 3-4 months.