Product Overview
Did you now that our facial movements and expressions, such as squinting or smiling, lead to fine lines and wrinkles? Each time you use a facial muscle, a groove forms beneath the surface of the skin. This is not problem with young skin, but as our skin ages, it loses its flexibility and is no longer able to spring back in place. Repeatedly making an expression causes the collagen in your skin to break down in that area. Over time, the skin loses it's elasticity and begins to form fine lines and wrinkles. Horizontal forehead lines are often seen when we're surprised or delighted, and vertical forehead lines can surface when we're distressed.
Does that mean we shouldn't smile or be upset at times? Of course not, emotions are natural and healthy for our mental well-being. That's where an idea for this Natural Expression Corrector Face Mask came from. There are many unique ingredients and actives in natural skincare that can take care of those expressions wrinkles and let you smile away!
This listing is for one bottle of Expression Corrector Age Defying Face Mask in a bottle - enough for 12-13 masks depending on use. Volume (70ml/2.36oz)
Safe to Use from: 25 years +, Recommended from: 30 years +
Usage Restrictions: individual allergies on formulation ingredients.
Instructions: Wash your face with a cleanser. Mix in the provided tear-shape bowl:
5 ml mask-concentrate (35 pumps)

5 ml of drinking water (1 teaspoon)
Take 1 dry cotton mask-tablet, and put into the container with the prepared mask. The dry pressed mask will swell within a minute - turn the tablet on different sides to make the mask absorb evenly into the tablet. Unfold the mask and apply to cleansed face. Leave on for 25-30 minutes. After removing the cotton fabric, spread the rest of the mask over the skin and leave until completely absorbed. Please don't rinse. Follow with your natural face cream. The mask can be used 2-3 times a week, and alternated with other fabric face masks we have in our store.
KEY BENEFITS of Natural Expression Corrector Face Mask
Inyline™ Active - brings a novel approach to the cosmetic treatment of expression wrinkles. This active works to relax the contraction of face muscles, which in turn results in muscle relaxation, with the skin surface appearing smoother and wrinkle line depth decreasing substantially.
Leuphasyl® Active - a new peptide developed to reduce wrinkle-formation mechanism of expression wrinkles in a new way Penetrates the skin to reduces the depth of wrinkles on the face caused by the contraction of muscles of facial expression, especially in the forehead and around the eyes.
Neroli Flower Water - along with its regenerative qualities, neroli oil is also antiseptic, antibacterial, anti-inflammatory and pain-relieving. This makes it useful to treat mature skin and reduce redness associated with dry skin.
Hyaluronic Acid NANO, LMW & HMW - a powerful humectant containing a complex of Nano, Low and High Molecular Weight sizes, helps our skin replenish and sustain natural hydration levels that we loose over time as a result of aging. Reduces the appearance of fine lines and wrinkles and speeds up wound healing.
Caffeine Powder - a very powerful antioxidant. It tones the skin, accelerates blood microcirculation and increases the flow of oxygen to tissues, reduces inflammation and swelling.
Vitamin A (also Retinol) - helps to speed up healing, prevent breakouts and support the skin's immune system and it promotes natural moisturising - which means it helps to hydrate the skin effectively, giving it a radiant glow. Vitamin A also increases cell turnover, it can also help get rid of fine lines and wrinkles. It encourages healthy skin cell production and growth which keeps skin firm and younger looking.
Coenzyme Q10 (COQ10) - a compound that's naturally present in our skin, one that energizes skin cells, which results in antioxidant effects, protecting our skin from oxidative damage. As we age, Q10 levels drop, and we replenish it thorugh this serum. Coenzyme Q10 is a potent antioxidant with effective anti-aging & anti-wrinkle properties, reinforces collagen & elastin production of connective tissues, amazing moisturizer (liposomes penetrate into skin thus preventing water-loss).
Apricot Kernel Oil - a very popular oil, well suited for all skin types, is mild and absorbes fast into the skin.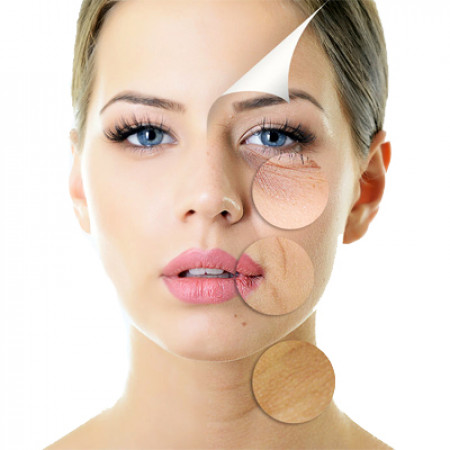 Vitamin D - natural powerful antioxidant vitamin. Known fact that human skin cells can make vitamin D from sunlight. Vitamin D supports lackluster skin, vibrancy, spots and boosts elasticity with anti-inflammatory effects. Vitamin D plays in skin cell development and repair, as well as how it mobilises your skin's immune system and helps destroy free radicals that can cause premature aging.
Vitamin C - a real hero in the fight against damaged skin structure and pigmentation. Vitamin C stimulates the production of collagen in the dermis. It fights against all manifestations of photoaging: thickening and roughness of the skin, age spots. Restores vitamin E, which is also a powerful natural antioxidant. Inhibits the production of eumelanin, which helps to brighten the skin and restore its radiance.
Vitamin F - provides moisture and "plumpness" to the skin without weighing down the skin. It fortifies and protects the skin's barrier, thereby helping to fend off UV rays and air pollutants such as smoke, both of which cause free radical activity that can result in wrinkles and signs of aging.
Alpha-Linolenic Acid - known to inhibit melanin production and reduce hyperpigmentation. Its anti-inflammatory properties are beneficial for blemish-prone skin as well - and they help to further improve hyperpigmentation, since pigmentation disorders can be caused by the release of inflammatory cells.
Full list of Ingredients: Aqua, Citrus Aurantium Amara Floral Water, Pentapeptide-18, Acetyl Hexapeptide-30, Arginine, Sodium Hyaluronate, Caffeine, Prunus Armeniaca (Apricot Kernel) Oil, Retinol, Tocopherol, Magnesium Ascorbyl Phosphate, Cholecalciferol, Ubiquinone, Linolic Acid, Alpha Linolic Acid, Glycerin, Salicylic Acid, Sorbic Acid, Benzyl Alcohol.
Disclaimer: This Natural Expression Corrector Face Mask is intended for external use only. If irritation occurs, discontinue use immediately and consult your physician.
Storage Requirements & Expiration: Our Natural Expression Corrector Face Mask can be safely stored at room temperatures (away from direct sunlight) for up to 6 months since the product has been opened. If not used within this timeframe, it can be stored in the fridge for additional 3-4 months.