Product Overview
Fortified with Avocado Oil, Shea Butter, Tucuma Butter & Camellia Oil our luxurious nourishing hand cream offers long-lasting hydration throughout the day, and absorbs readily into the skin. The powerful natural ingredients in this cream work together to improve skin elasticity. It also contains fatty acids that are able to replace / replenish the lack of moisture in your skin's lipids, so that the skin becomes softer and smoother, more hydrated, and plumped.
Scents Available:
Bergamot & Lavender - a classical lavender scent finished with mild notes of citrus bergamot.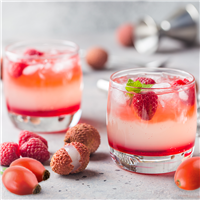 Rosehip & Lychee - fresh notes of cassis, grapefruit, and mint are met with a unique accord of rosehip, lychee, and juniper berry. Vanilla and galbanum provide a rich finish.
Lilac & Bergamot - a fresh floral bouquet of lilac and lilies with a hint of bergamot. Top notes of lilac, ylang ylang and lily of the valley. The heart of the fragrance is a melody of jasmine, rose and lavender with a gentle lingering musk base.
This listing is for one tub of Natural Hand Cream (125ml/3.38oz)
Instructions: Squeeze out a little bit of hand cream and massage into clean skin in circular motion. Use as needed.
Safe to Use from: 4 years +
Usage Restrictions: individual allergies on formulation ingredients.
KEY BENEFITS of Natural Hydrating Hand Cream
Vitamin E: ptotects our skin from every day radicals, and is packed with anti-aging benefits. It naturally works to neutralize all the environmental stressors that destroy colagen levels in our skin, which cause fine lines and premature againg. It is also a very powerful moisturizer that will make our skin look radiant and fresh.
Avocado Oil: The benefits of avocado oil are endless, its like a liquid gold for our skin. Studies claim avocado oilcan help prevent premature aging/wrinkles, helps to reduce dark marks, lightens skin tone, moisturizes your skin, prevents sun damage, and reliefs dehydrated and ultra-sensitive skin. Avocado oil is naturally rich in vitamins A, D, and E, and unsaturated fatty acids, all of which are extremely beneficial for a healthy looking and radiant skin.
Shea Butter: extracted from the nuts of the shea tree, shea butter is packed with fatty acids, antioxidants and vitamins E, A and F. It is considered to be a superfood for our skin as it is believed to deeply moisturize dry skin, treat acne and blemishes, reduce skin inflammation, possess anti-aging properties, provide relief to itchy and peeling skin, restore skin elasticity, prevent and reduce stretch marks, and even help with diaper rush.
Tucuma Seed Butter: having a silicone-like behaviour, Tucuma is very rich in lauric, myristic and oleic acids; it is thus considered to have excellent emollient and skin-softening properties. As well, it is high in vitamin A, and its antioxidant properties lengthens its shelf life.
Camellia Seed Oil: protects the skin against the abuse of external environmental elements, reduces the appearance of mature skin, and gives a nourished look to your complexion. It is easily absorbed by the skin, leaving it silky smooth without the greasy feeling, making it one of the best kept secrets in the cosmetic and hair care industry.
Full list of Ingredients: Aqua, Butyrospermum Parkii Butter, Ethylhexyl Palmitate, Astrocaryum Tucuma Seed Butter, Persea Gratissima (Avocado) Oil, Camellia Oleifera Seed Oil, Glycerin, Polyglyceryl-3 Dicitrate/ Stearate, Myristyl Myristate, Glyceryl Stearate SE, Tocopherol, Cetearyl Alcohol, Glyceryl Caprylate, Glyceryl Undecylenate, Natural Fragrance, Xanthan Gum, Citric Acid.
Disclaimer: Our Natural Nourishing Hand Cream is intended for external use only. If irritation occurs, discontinue use immediately and consult your physician.
Storage Requirements & Expiration: Our Natural Hand Cream can be safely stored at room temperatures (away from direct sunlight) for up to 6 months since the product has been opened. If not used within this timeframe, it can be stored in the fridge for additional 3-4 months.