Product Overview
Suitable for all skin types, our luxurious face and neck serum oil features eight natural carrier oils, four essential vitamins, and four top anti-aging essential oils that make up a wonderful balancing, healing and rejuvenating blend. This oil is rich in antioxidants and polyphenols that give the oil natural protection abilities, shielding skin from UV and free-radical damage.
It also supports cell regeneration and repairs skin, effectively reducing and preventing wrinkles in the epidermis, improving skin elasticity, suppleness and flexibility, and repairs fine lines and sagging skin. Our luxurious face and neck oil has a superior moisturizing ability, nourishes and softens skin. It is a wonderful addition to your evening skincare routine, especially during cold winter months.
This listing is for one jar of Natural Regenerating Face & Neck Oil (60ml/2.02oz)
Safe to Use from: 12 years +, Recommended from: 30 years +
Usage Restrictions: individual allergies on formulation ingredients, not safe during pregnancy and lactation.
Instructions: Shake the bottle well, mix one pippete into your face cream and apply to entire face and neck area after cleansing and toner. Allow mixture to absorb well into the skin. Dont forget to take care of your eye area with our Natural Anti Aging Eye Cream.
KEY BENEFITS of Natural Regenerating Face & Neck Oil:
Olive Squalane - a wonder ingredient for the skin! Squalane penetrates the skin quickly and easily to offer moisture, enhanced elasticity and resilience. It boosts the skin's water-retention, leaving it looking and feeling hydrated, smoother, and softer to the touch without leaving a greasy or sticky residue. Squalane helps to minimize the appearance of wrinkles and cracks formed by extreme dryness and damage, protects against the harsh effects of the elements, UV radiation, and pollution. Its non-comedogenic quality makes Squalane suitable for all skin types, even oily complexions.
Apricot Kernel Oil - a very popular oil with massage therapists. It is well suited for all skin types, is mild and absorbes fast into the skin.
Rosehip Carrier Oil - is extremely high in natural essential fatty acids and is known to help with dry, irritated, tired, and weathered skin. It is reputed to replenish the skin's moisture barrier and may assist in reducing the visible signs of aging.
Jojoba Carrier Oil - in actuality, it is a liquid wax. It is said to closely resemble the sebum of the skin, and is rich in vitamin E. This gives a healthy looking complexion to your skin.
Raspberry Seed Oil - an excellent carrier oil used in cosmetic preparations as a carrier of nutrients to the skin. It has a high content of Essential Fatty Acids (EFAs) and is a rich source of tocopherols (antioxidants) which hydrates the skin and leaves the skin feeling soft and smooth. Raspberry seed oil offers anti-aging benefits of improving skin elasticity, suppleness and flexibility, while softening and smoothing the look of wrinkles, fine lines and sagging skin.
Pomegranate Carrier Oil - rich in essential fatty acids, Pomegranate Oil has high emollient properties that make it an effective moisturizer that may help to prevent environmental damage to the skin, and prevent skin conditions caused by dry skin. Its antioxidant properties have been reputed to reduce the signs of aging by protecting the suppleness of the skin and reducing the appearance of fine lines.
Camellia Carrier Seed Oil - protects the skin against the abuse of external environmental elements, reduces the appearance of mature skin, and gives a nourished look to your complexion. It is easily absorbed by the skin, leaving it silky smooth without the greasy feeling, making it one of the best kept secrets in the cosmetic and hair care industry.
Sea Buckthorn Carrier Oil - is a spiny shrub or tree with bright red or yellow berries native to Europe and the northern regions of Asia. These berries are said to be the single highest vegetal source of Vitamin C, Vitamin E, unsaturated fatty acids and essential amino acids, along with beta-carotene, which gives them their bright color.
Coenzyme Q10 (COQ10) - a compound that's naturally present in our skin, one that energizes skin cells, which results in antioxidant effects, protecting our skin from oxidative damage. As we age, Q10 levels drop, and we replenish it thorugh this serum. Coenzyme Q10 is a potent antioxidant with effective anti-aging & anti-wrinkle properties, reinforces collagen & elastin production of connective tissues, amazing moisturizer (liposomes penetrate into skin thus preventing water-loss).
Vitamin A (also Retinol) - helps to speed up healing, prevent breakouts and support the skin's immune system and it promotes natural moisturising - which means it helps to hydrate the skin effectively, giving it a radiant glow. Vitamin A also increases cell turnover, it can also help get rid of fine lines and wrinkles. It encourages healthy skin cell production and growth which keeps skin firm and younger looking.
Vitamin E - helps to reduce the appearance of scars and moisturise the skin. Studies have shown that Vitamin E plays a crucial role in protecting the skin from environmental factors. The d-alpha-tocopherol in Vitamin E is also known to helps reduce the appearance of fine lines.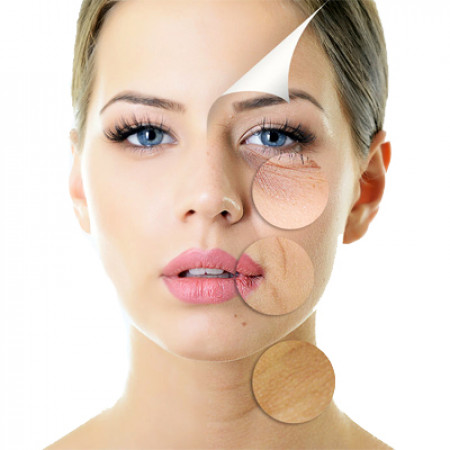 Vitamin D - natural powerful antioxidant vitamin. Known fact that human skin cells can make vitamin D from sunlight. Vitamin D supports lackluster skin, vibrancy, spots and boosts elasticity with anti-inflammatory effects. Vitamin D plays in skin cell development and repair, as well as how it mobilises your skin's immune system and helps destroy free radicals that can cause premature aging.
Frankincense Essential Oil - one of the most popular essential oils, Frankincense will give you the look of a full 8 hours' sleep (even if you didn't get that many Zzzzs). Frankincense is anti-inflammatory. This property helps with morning redness, puffiness and regenerating of cell growth. Frankincense has a mild to medium fruity spicy aroma that many appreciate.
Ylang Ylang Essential Oil - powerful anti-bacterial oil, it also acts as a healing powerhouse, boosting the regenerative process of the epidermis. Moreover, it works wonders to regulate your face sebum production. Whether your skin is dry or oily, ylang ylang essential oil corrects the amount of oil your sebaceous glands produce, ensuring your complexion has just the right amount of moisture. With its powerful antioxidant properties, ylang ylang oil can help to fight off the free radicals that are responsible for premature aging. It's one of the top essential oils used in face and eye creams, and you can see why!
Lavender Essential Oil - this amazing essential oil unclogs pores and reduces skin inflammation, prevents skin aging due to powerful antioxidant properties.
Geranium Essential Oil - astringent effect of this popular essential oil allows skin tissues to tighten and contract, significantly reducing the appearance of wrinkles. It also has antioxidant effects to slow down skin aging, helping you look younger
Full list of Ingredients: Prunus Armeniaca (Apricot) Kernel Oil, Squalane, Camellia Oleifera Seed Oil, Simmondsia Chinensis (Jojoba) Seed Oil, Rosa Canina Fruit Oil, Punica Granatum Seed Oil, Rubus Idaeus (Raspberry) Seed Oil, Hippophae Rhamnoides Fruit Oil, Ubiquinone, Retinol, Cholecalciferol, Tocopherol, Boswellia Garterii Oil, Pelargonium Graveolens Flower Oil, Lavandula Angustifolia (Lavender) Oil, Cananga Odorata Flower Oil.
Disclaimer: Our Natural Regenerating Face & Neck Oil is intended for external use only. If irritation occurs, discontinue use immediately and consult your physician.
Storage Requirements & Expiration: Our Natural Regenerating Face & Neck Oil can be safely stored at room temperatures (away from direct sunlight) for up to 9 months since the product has been opened. If not used within this timeframe, it can be stored in the fridge for additional 3-4 months.