Product Overview
Our Dark Spot Eraser Natural Serum is fortified with numerous natural skin brightening ingredients - Giga White™Active, Sepiwhite™ Active, Belides™ Active, Alpha Arbutin and Niacinamide. Those powerful natural ingredients and actives work together to block and reverse epidermal melanin synthesis by inhibiting enzymatic oxidation of Tyrosine and Dopa, and to promoting skin-brightening and an even skin tone on all skin types.
Our Dark Spot Eraser Natural Serum is packaged in dark green light-protected glass jar, which means that the cream can be stored without the addition of aggressive preservatives, surfactants, sulfates and other chemicals. And this is exactly what we want for our skin!
This listing is for one bottle of Dark Spot Eraser Natural Serum (60ml/2.01oz)
Instructions: Shake the bottle well and apply serum to affected skin area after cleansing. Allow serum to absorb into the skin, then follow with a face cream if applicable. Apply ONLY before bedtime. Apply sunscreen when going outside during sunny weather and in the summer.
KEY BENEFITS of Dark Spot Eraser Natural Serum
Belides™ - a popular skin lightening active obtained from organic daisy flowers! It's action is based on a potent, multifaceted reduction in the activity of melanocytes in the skin layers. The active provides even and luminous complexion and radiant skin by combating pigmentation disorders of age spots, sun spots and freckles. Certified by ECOCERT Greenlife and NATRUE.
Giga White™ Active - a skin brightening and dark spot corrector derived from a natural source. Giga White is a plant-based, chemichal and preservative-free skin lightening alternative to hydroquinone with minimal to no skin irritation. The plants are combined in a proprietary blend ratio maximizing its activity and producing an even more effective ability to inhibit tyrosinase. Tyrosinase is an enzyme chiefly responsible for the production of melanin, which can lead to hyper pigmentation issues. It is effective in treating dark spots, skin discolorations and sun damaged skin.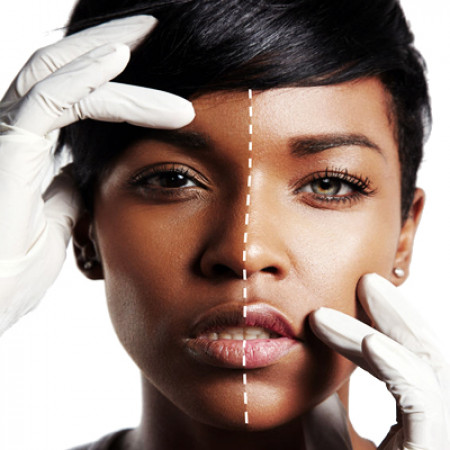 Sepiwhite™ MSH Active - an excellent skin lightener and brightener suitable for all skin types and ethnicities that promotes a more uniform and radiant complexion with results in as little as two weeks. Studies have demonstrated an increase in skin luminosity and decrease in the number and color of hyperpigmented spots, and it can be combined with other active ingredients, such as niacinamide or AHAs. Sepiwhite™ is an alpha-melanocyte-stimulating hormone receptor that inhibits the process of melanin synthesis from the hypothalamus to produce a reduction in melanin pigments in skin cells.
Niacinamide or Vitamin B3 - a miraculous ingredient that keeps skin healthy, soft, glowing. Helps maintain the structure of blood cells and improves blood circulation. Reduces acne and pigmentation of the skin, prevents skin aging, gives skin elasticity, and moisturizes.
Alfa-Arbutin - blocks the synthesis of melanin in the epidermis. An effective, fast and safe approach to skin lightening and evenning out of skin tone for all skin types. Alpha-arbutin meets all the requirements for modern natural skin lightening and depigmentation products.
Witch Hazel - excellent natural product that removes excess oil and tightens pores. Effective against bruising, discoloration, redness, oily skin, and acne.
Hyaluronic Acid LMW & HMW: a powerful humectant containing a complex of Nano, Low and High Molecular Weight sizes, helps our skin effectively replenish and sustain natural hydration levels that we loose with aging. Reduces the appearance of fine lines and wrinkles and speeds up wound healing.
Rosemary Floral Water - contains anti-inflammatory compounds that make it useful for reducing redness and puffiness. Rosemary increases blood flow to the skin, evens out complexion, and deeply hydrates.
Full list of Ingredients: Aqua, Hamamelis Virginiana Water, Rosmarinus Officinalis (Rosemary) Water, Bellis Perennis (Daisy) Flower Extract, Malva Sylvestris (Mallow) Extract, Mentha Piperita (Peppermint) Leaf Extract, Primula Veris Extract, Alchemilla Vulgaris Extract, Veronica Officinalis Extract, Melissa Officinalis Leaf Extract, Achillea Millefolium Extract, Niacinamide, Sodium Hyaluronate, Alpha-Arbutin, Undecylenoyl Phenylalanine, Glycerin, Xanthan Gum, Salicylic Acid, Sorbic Acid, Benzyl Alcohol.
Disclaimer: This Dark Spot Eraser Serum is intended for external use only. If irritation occurs, discontinue use immediately and consult your physician.
Storage Requirements & Expiration: Our Dark Spot Eraser Serum can be safely stored at room temperatures (away from direct sunlight) for up to 6 months since the product has been opened. If not used within this timeframe, it can be stored in the fridge for additional 3-4 months.